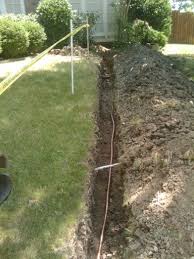 Water Line Repair
in Nassau and Suffolk County
(See money saving coupon below)
Whether your water line is made of copper, steel, poly,
galavanized, or plastic...
We do your Water Line Repair!
Allied/All-City can find that leak and fix it fast.
No Problem...This is what we do!

Your water line ensures that clean water is entering your home and we understand the importance of that for
you and your family.
A broken water line not only puts your water supply at risk by pulling in outside contaminates, it can also cause damage to your property by causing sink-holes and such.

At Allied/All-City Inc., our skilled technicians can detect the problems and repair them quickly.
The results?
You'll protect your property, save money, and most importantly make sure your family is getting that safe, best quality water.
24 Hour Emergency water line repair available on Long Island

Residential and commercial water line repair service

Free estimates on water line repair - Call today!