Smoke Testing
* Finds Leaks in Sanitary Pipes *
Interior Spaces
Finds leaks inside the house by seeing the smoke exit Broken or Defective piping in your Home.
Don't let the inside of your home to be contaminated by Sewer or Cesspool fumes...Breathing in these toxins is harmful to You and your Family!
Have your Home or Business checked periodically
By forcing special non-toxic smoke through a sewer or plumbing system, leaks can be quickly and efficiently detected as the smoke escapes through problem areas such as cracks, breaks, or separations.
Even Newly Constructed Homes should be Tested!!

Outside Detecting
Shows sewer pipe breaks from old piping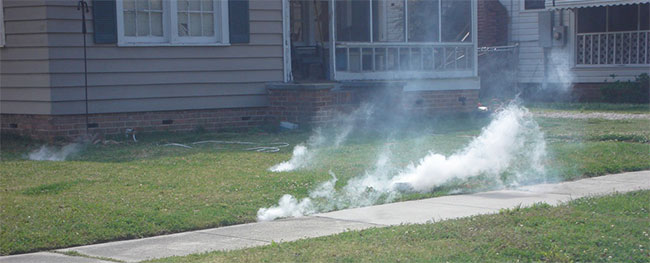 Efficient and also cost effective, smoke testing has developed into a world-wide standard for detecting leaks in
Sewer and Plumbing Systems
Finding Leaks is What...
Allied / All-City
Is All About
- Call -
516-785-2700