Sewer Line Camera
Get the Inspection You Need
Let's not Guess!
Here at Allied / All-City, Sewer Line Camera Inspections are one way to find what the problem is on slow or clogged Sewer Lines or Drains.

We can view all your Inner Underground Pipelines from above, conveniently viewing our monitor TV Screen! Plus follow it from above as we move thru the pipe, marking it out on ground level.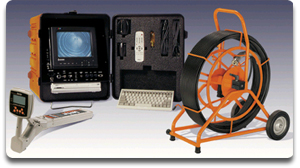 Getting the exact answer you want is what you get with our array of Sewer Line Cameras and Monitors...
You see what we see!

Whether it is Commercial, Residential, or an Industrial building Get what you need Fast!!
Clogged or Broken
We can also locate all your underground Drywells & Leaching pools
Known or Unknown
We take care of the job Fast!