Vacuum Excavation
*(We Dig Without Damage)*
(516) 785-2700
*24 Hour Emergency Response*

Vacuum Excavation: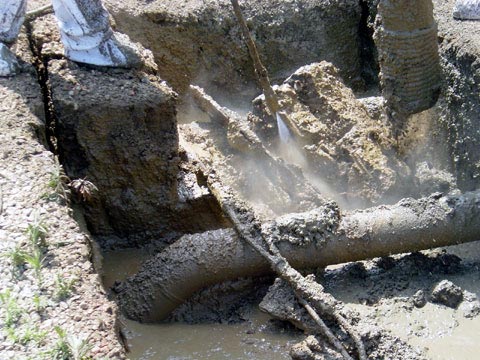 Vacuum Excavation is used to delicately unearth buried utilities or other buried items that could be easily damaged by traditional backhoe excavation techniques.
Using air or water to loosen soil greatly reduces the chances of any damage that can occur.
As an example of why our method is so much safer...
a backhoe cuts through soil, and can cut through the utilities buried in that soil just as easily.
The Air and Water during Vacuum excavation effectively "wash" away the soil, rather than cutting it as it gets Vacuumed up.
This protects the buried utilities from damage.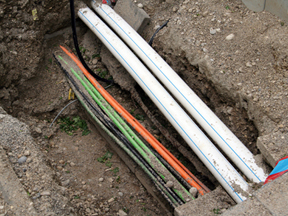 Vactor Truck / Tanker & Water Blasting Services:
Allied/All City Vactor Trucks and Tankers are equipped to handle corrosives, hydrocarbons, waste oil and industrial by-products. Our vac truck is also equipped with bag filtration for handling dry products.
With our 2000 - 40,000 PSI water (jet) blasting equipment or sewer jet equipment (120/GPM) Allied can clean any size tank or line (industrial, drain, evaporator, etc).
Excavation and Removal of Underground Storage Tanks and Contaminated Soil:
We can remove tanks with various gallon capacities from industrial, commercial or residential properties. Our services include complete product and tank removal, transportation and disposal. Excavated tanks are transported, de-gassed if necessary and disposed of as recyclable items. Contaminated soil excavations of any size can be performed at any location and include loading, transportation, disposal and site restoration
Excavation Work:
Allied/All City is fully equipped to handle all water main and sewer related excavation work. Not only do we have a fleet of trucks ready to be dispatched to your job, but we have invested significantly in our excavation equipment to ensure that all of our jobs are done according to the highest standards in the industry.
If you are in an emergency situation and you suffer a failure of water or sewer service, our friendly and knowledgeable staff is ready to dispatch one of our fully stocked service trucks 24 hours per day, 7 days per week. Our excavation expertise allows us to be fully prepared for any size job at any time. Each of our service trucks is fully stocked and prepared to attend to you water and sewer needs at the drop of a dime, We offer you the highest standard of work at the most affordable and competitive costs.